mini-bio
I was born in Washington D.C., in 1967. From a very young age I was always drawing, painting, and making stuff. I still have one of my first pieces of jewelry I made when I was little: a bracelet made of movie ticket stubs.
Later I graduated from Sarah Lawrence College, then moved to New York City. I had always considered myself first and foremost a painter, but once in New York I found myself making a living as a jeweler quite by accident. I had taken a weekend jewelry making course for fun and this class sparked the beginning of a silver jewelry making career that I enjoyed for 12 years.
Then in 2002 we moved to Florence, Italy, where my husband's family is from, just to try it out for a year or two, which somehow turned into ten.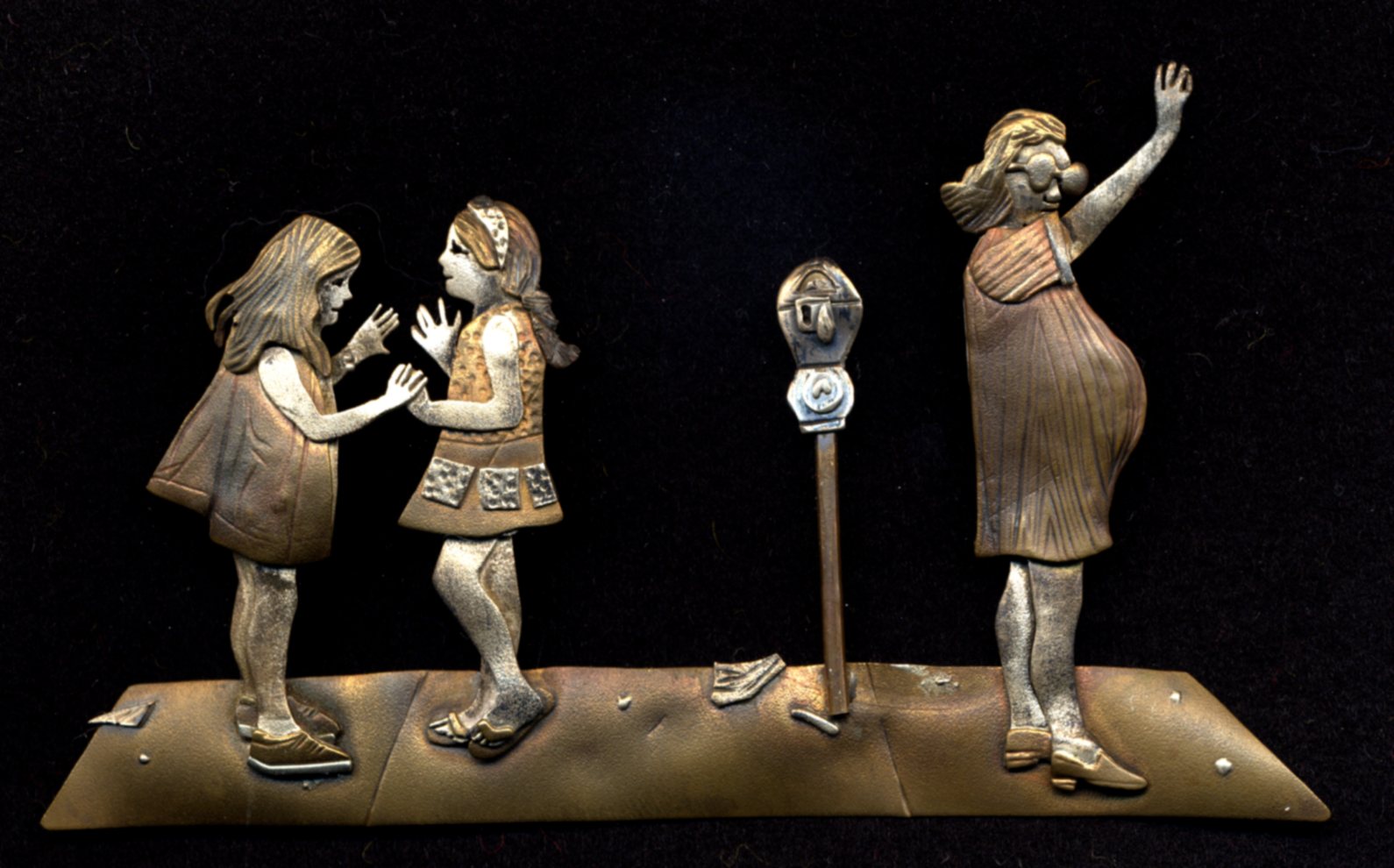 My years in Italy introduced me to the beautiful European designer felt I use. I first found thick black and white felt in an industrial store in Milan, and that's when I started playing around with the material. At that time I was still working in metal, and during a trip to exhibit in a show in Germany I came across a store filled with a dazzling selection of colored "designer" felt. It was so striking: dense, thick, with fabulous colors - a very different look from the the hand felted work I had seen in the U.S.
I was so excited in that store, that buying a meter of this and a meter of that, I inadvertently ended up getting way too much. I found myself lugging giant bolts of the stuff with me on the train to get back to Italy, barely able to move it on my own.
From that point on I stopped using metal, and concentrated exclusively on working in this soft, colorful and light material (yet surprisingly heavy in bulk!).
Although the materials were so different, the way that I worked them remained the same. I was constructing things out of sheets of felt, building up flat layers, in the very same way that I had been assembling silver and bronze. But, to my great relief, I was now using a needle and thread instead of dangerous soldering chemicals and tanks of gas, which considering I worked at home and had two very young children, was a welcome change.
After ten years of living in Italy we were ready to try something completely different, and we moved to Middlebury, Vermont, in the summer of 2012. We went from gorgonzola to cheddar, olive oil to maple syrup, and cappuccino to… oh well, better not to think about that one.
I have a studio filled with rolls and sheets and scraps and snippets and bits of different colors and thicknesses of felt, which I cut by hand with strong scissors and with custom made dies. I construct the pieces sitting at my desk, looking out at my new multicolored friends perched on my bird feeders, a new passion. Between Facebook and birds, not to speak of kids, I don't know how I get any work done at all. (Speaking of Facebook, you can check out my page at facebook.com/DanielleGoriMontanelliStudio).
With my felt work I have exhibited at the Museum of Art and Design's "Loot: Mad About Jewelry" show in New York City, the Smithsonian Craft Show, the Philadelphia Museum of Art Craft Show, American Craft Council shows, SOFA in New York and Chicago, and the Chelsea/Origins show in London. My work is in galleries throughout the U.S., such as the Snyderman Gallery in Philadelphia and The Textile Museum in Washington D.C., as well as galleries in Europe, including the Lesley Craze Gallery in London.